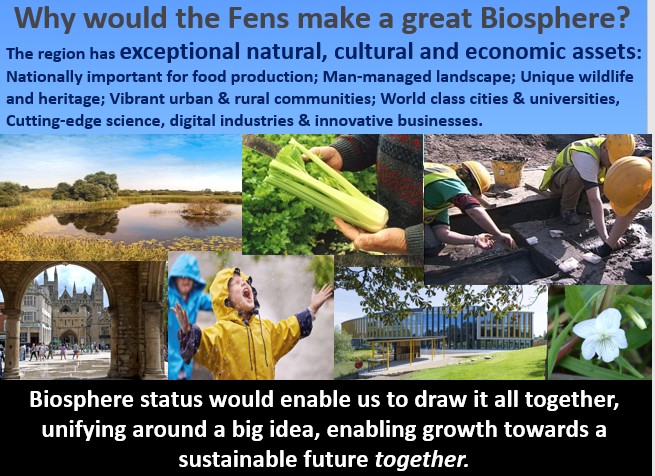 This November the proposed Fens Biosphere was awarded Candidate Status by UK Man and the Biosphere (UK MAB) on behalf of UNESCO.
This means:
We have achieved all the criteria necessary to be recognised as a potential Biosphere – for example we have draft defined area and a good working partnership to guide the development of the nomination process.
We have the right plans in place and have made enough progress to give UK MAB confidence in our ability to complete the nomination process and achieve Biosphere status once all the stakeholder input has been achieved.
UK MAB will now actively support and advise the Fens Biosphere Steering Group in order to help us achieve Biosphere status.
There is no such a thing as a standard Biosphere. UNESCO Biospheres have some common themes: they are special places for people & nature, delivering sustainable socio-economic development, nature conservation and learning and innovation. However each Biosphere can develop according tho the areas needs and resources – by working with a wide range of partners and consulting stakeholders we aim to develop a Fens Biosphere that is right for our area and which will bring many benefits for the communities, businesses and wildlife in the area.